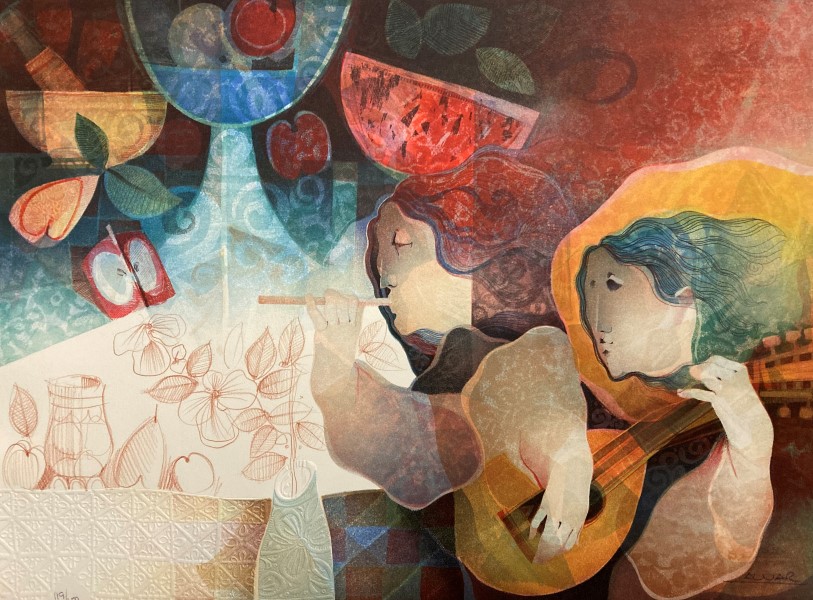 My husband often quotes an Arab proverb, "the kitchen is the university". In a home-school family it is more true than usual Our kitchen table as been the foundation for drafting edible topographic maps; building french pastries; designing jewelry; plotting birthday kidnappings, election strategies, and murder mystery parties. From it we have served up weekly church potlucks, midnight comfort and fresh perspective. This table has been equally hospitable to old friends, needy strangers and sometime traitors.
Our family's most nourishing traditions gather around this table. Here my husband and I share a dark-of-the-morning coffee to plan the day. Here my children and I gather for breakfast devotions. And of course it is the center of the old Southwest sobre-mesa.
Sobre-mesa is the extended conversation after the main meal of the day. We all sip our coffee slowly and consider. Every topic is fair game, and everyone is expected to bring a topic of interest to the table. Our sobre-mesas range from poetry recitations to political debate to plans and hopes. It is a time when we can try out controversial proposals or work out knotty problems without fear of censure. It is an opportunity to practice supportive candor and to delight in the minds and characters of those around the table.
Over the years, our table has become rather shabby. Scorched, scratched, stained, the abused cherry wood had become a liability. The last time Elizabeth brought home a drop-in guest from her community college class, I squirmed as we poured the chai. All the tablecloths were in the washer.
But last week, the children and I drug home (much later than usual) from our debate club to a pungent fragrance that wasn't the dinner that should have been simmering. It was the smell of fresh varnish. Gleeful mischief shone in the children's faces. They had conspired with my mother to keep us out as long as possible so that mother could complete the table refinishing as a Christmas surprise.
Our table glows like a tiger-eye, not just a wood finish restored, but a tradition restored. It was my mother who passed to me the table-top traditions that she recieved from her mother. We have each added our own improvements. But our traditions all trace their lineage back to a Father and Son who conspired to restore the whole Creation in order to spread their Feast of reconciliation. May our table be a taste of that Table.